A paradise vacation location, the chill island of key west is located in the florida keys and 150 miles away from miami. It is surrounded on all sides by crystal clear water that makes it perfect for snorkel excursions and we got to spend some time there doing motivational speaking and some under water video production.
The reef there is 220 miles long running all the way down the Florida keys. The water is super warm and makes swimming in the beautiful ocean a dream, with or without scuba equipment.at depths averaging about 20 feet, one of the best ways to see this tropical reef system is simply by going snorkeling.
What will you need to bring?
Snorkel or scuba mask
dive Fins
Beach towel
Waterproof camera
Rent or purchase snorkel gear. You can buy snorkel gear, including masks and fins, from most local reputable dive shop.  if  you choose to purchase your own gear, you can pick up a cheap set of snorkel or discount SCUBA gear sale online or at a store such as amazon that cost anywhere from $20 to $50. Don't forget to bring a large beach towel and waterproof camera as well to capture all your under water memories..
Where to go scuba diving or snorkeling?
Visit Key West Marine Park, an area of beach located between Duval Street and the White Street Pier. Get there early as parking space is limited, and be sure to stay between the swim buoys to not drift too far out to sea. Key West Marine Park is home to various  marine life such as rays, lobsters and seastars and sharks.
Drive to Fort Zachary Taylor State Park, found on Southard Street in Key West. The water around Fort Zachary Taylor can be extremely clear and is home to snappers, grouper and parrot fish. However, make sure to call ahead to the park to get weather conditions as weather can really affect water visibility.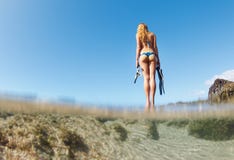 organized snorkeling tours can be fun as well with a great local guide. Most Key West dive shops also offer snorkel tours to numerous offshore snorkel spots. a popular snorkel tour is to the Dry Tortugas, which is located 80 miles west of Key West. The waters are shallow and filled with coral, large fish and sea shells and a ton of marine life, we had a blast there while we were filming some great underwater footage. If you snorkel or scuba dive you should have an amazing time in key west!